Seascape Village Resort – Aptos, CA
About Seascape Beach Resort
Located just south of Santa Cruz off Highway 1, Seascape Beach Resort offers 283 all-suites accommodations overlooking the Monterey Bay.
You'll find the comforts of home—plus the services and features of a luxury resort. Each accomodation has a kitchen and gas-burning fireplace with a beach home feeling, which is why Seascape is unlike any other Monterey Bay resort.
With 17 miles of Monterey Bay beach to explore, spacious all-suites accommodations, delicious fine dining, and a full range of activities to choose from, Seascape is the premier Santa Cruz luxury resort. Seascape provides everything to make your Santa Cruz lodging experience memorable, including a host of resort options and amenities. It all adds up to being one of the best Monterey Bay resort destinations you'll experience. That's why guests return year after year.
All-Suites Accommodations
At Seascape Beach Resort you get all the comforts of a private beach home, complete with four-diamond amenities: gourmet room service, award-winning on-site restaurant, three outdoor pools with spas, sports center, championship golf course, a host of Resort Options such as in-suite massage and beach-fires-to-go, plush cotton bathrobes, complimentary wireless internet, HD LCD TV with premium movies, select television programs, DVD player, and games on-demand.
A Leading Monterey Bay Conference Center
Recognized as one of California's top coastal conference centers, Seascape Beach Resort has stunning meeting and conference facilities among the best of Monterey Bay hotels and resorts. Seascape Beach Resort includes 17,000 square feet of meeting space with 15 conference rooms—most with ocean views—along with 4-star food, stellar team-building programs, and cozy ergonomic "captain's chairs."
Luxurious Coastal Weddings Overlooking Monterey Bay
There's no more perfect spot for an ocean view wedding than Monterey Bay. And there's no more ideal Santa Cruz resort than Seascape Beach Resort. Rated a four-diamond resort with luxurious amenities, Seascape features stunning banquet rooms ranging from 700 to 4,000 square feet and is the ultimate destination wedding resort with 285 suites and beach villas overlooking Monterey Bay.
Seascape's Green Commitment & Standards
Seascape Beach Resort is proud to have a green conscience, and is committed to environmental responsibility, natural resource conservation, and lessening our impact on the beautiful natural world around us. As such, we are a certified Monterey Bay Area "Green Business," and are fully committed to promoting sustainability and using high quality eco-friendly products and services.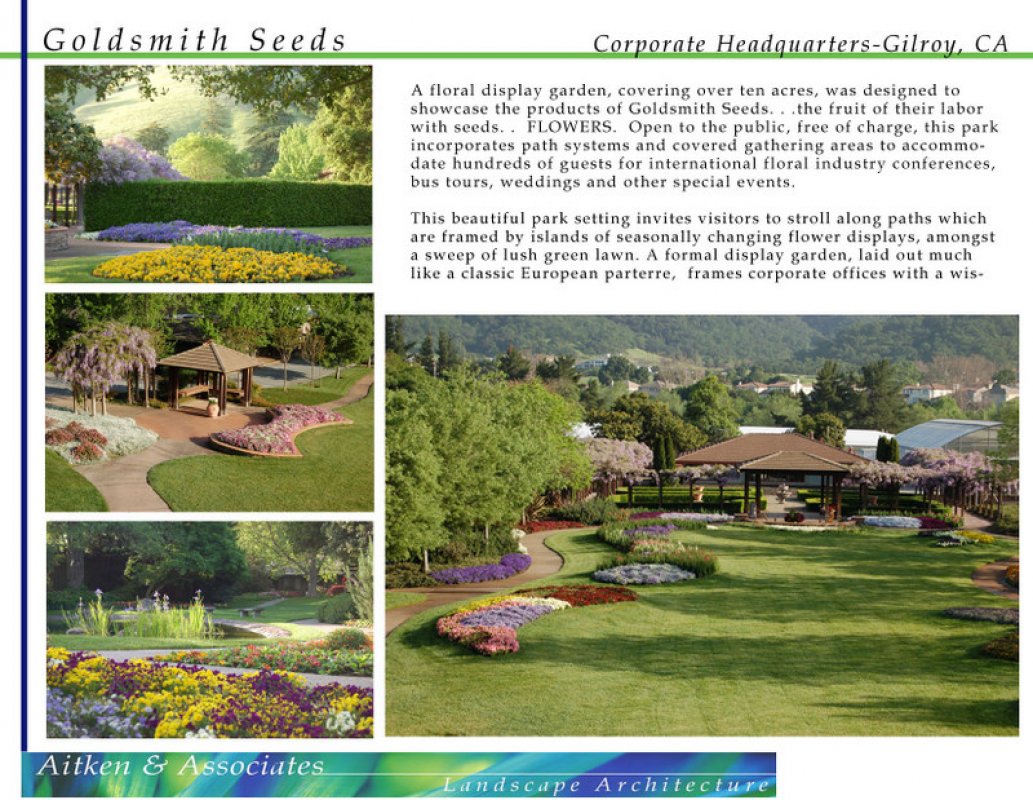 Goldsmith Seeds – Corporate Headquarters – Gilroy, CA
About Syngenta / Goldsmith Seeds

About Syngenta Flowers North America
Syngenta Flowers North America is one of the largest wholesale breeders of hybrid flower seed and cuttings in the world – developing and producing flower seeds and cuttings for growers internationally.
Syngenta Flowers is dedicated to the breeding innovative flower varieties that offer outstanding performance in the professional greenhouse, at retail, in the landscape and in the home garden. In addition to legendary genetics, we support industry professionals with world-class customer service, in-depth cultural information, flexible and exciting marketing programs, and a deep understanding of plants from many points of view.
Syngenta Flowers has garnered more than 35 international awards for introducing hybrid annuals to the world, including such garden mainstays as Calliope® Interspecific Geraniums, Titan™ Poinsettias, Diabunda™ Dianthus, Endurio™ Violas, Sparkler™ Cleome, and Magellan™ Zinnias.
Meeting customer needs
Whether you are a grower, young plant raiser, distributor or retailer, we have unique integrated solutions to help your business thrive. What's more, you have access to our full range of experts. They can provide you with practical assistance on the ideal genetics and crop protection for your specific needs and commercial success.
Rooting Stations
Syngenta Flowers is committed to its customer's success and has developed special packaging to guarantee cuttings arrive in the best possible condition. Our independent licensed root and sell locations and our regional rooting locations have been serving our customers for decades.
Bonfante Gardens – Gilroy, CA
Michael's Vision
Park creator and builder...
Michael Bonfante's vision - his love of plants and trees, and his commitment to pass this appreciation on through the generations - continues to inspire everyone who works and volunteers at Gilroy Gardens.

The trustees aspire to make use of the extraordinary beauty of Gilroy Gardens to attract students to the science of horticulture and environmental studies. We aspire to demonstrate and measure our success in becoming the best center in California for attracting and educating students in the critical importance of becoming good stewards of the natural environment. We aspire to be the best promoters of careers in horticulture and environmental studies in the United States.

In this age of burgeoning awareness of environmental crisis, understanding our dependence on flora is necessary for our survival. Educating youth in science and environmental studies is now a national priority. Gilroy Gardens intends to be a leader in that mission.

The teaching of environmental stewardship will be done in affiliation with schools, colleges and universities, and will couple Gilroy Gardens' ability to provide a highly attractive, enjoyable learning environment with the standards for horticultural and environmental studies curricula of the state. Gilroy Gardens will be recognized as the premier horticultural living lab for schools, colleges, and the community in the United States.

We will continue to support Gilroy Gardens with public entrance fees and through grants from local, regional, state and national governments, and private foundations to expand the quantity and quality of educational projects. Many of these educational projects will be in partnership with schools and colleges. The promotion of careers in horticulture and environmental sciences will be funded by corporations, private foundations and government institutions.
Mission San Juan Bautista – San Juan Bautista, CA
Mission San Juan BautistaA view of the Mission San Juan Bautista and its three-bell campanario ("bell wall"). Two of the bells were salvaged by Father Nick Senf in 2009 from the original chime, which was destroyed in the 1906 San Francisco earthquake.Location of Mission San Juan Bautista in CaliforniaLocation406 2nd Street
San Juan Bautista, California95045Coordinates36.845083°N 121.535889°WCoordinates: 36.845083°N 121.535889°WName as foundedLa Misión del Glorios Precursor de Jesu Cristo, Nuestro Señor San Juan Bautista [1]English translationThe Mission of the Glorious Precursor of Jesus Christ, Our Lord, Saint John the BaptistPatronSaint John the Baptist [2]Nickname(s)"Mission of Music" [3]Founding dateJune 24, 1797 [4]Founding priest(s)Father Fermín Lasuén [5]Founding OrderFifteenth [2]Military districtThird [6]Native tribe(s)
Spanish name(s)Mutsun, Yokuts
CosteñoNative place name(s)Popeloutchom [7]Baptisms4,106 [8]Marriages1,003 [8]Burials2,854 [8]Secularized1835 [2]Returned to the Church1859 [2]Governing bodyRoman Catholic Diocese of MontereyCurrent useParish ChurchCalifornia Historical LandmarkReference no.195Websitehttp://www.oldmissionsjb.org/
Mission San Juan Bautista is a Spanish mission in San Juan Bautista, San Benito County, California. Founded on June 24, 1797 by Fermín Lasuén of the Franciscan order, the mission was the fifteenth of the Spanish missions established in present-day California. Named for Saint John the Baptist, the mission is the namesake of the city of San Juan Bautista.
Barracks for the soldiers, a nunnery, the Jose Castro House, and other buildings were constructed around a large grassy plaza in front of the church and can be seen today in their original form. The Ohlone, the original residents of the valley, were brought to live at the mission and baptized, followed by Yokuts from the Central Valley. Mission San Juan Bautista has served mass daily since 1797, and today functions as a parish church of the Diocese of Monterey.
Contents
History[edit]
The church chancel with Easterdecoration
A photograph of Mission San Juan Bautista taken between 1880 and 1910. The steeple (far right), constructed after the mission was secularized, was subsequently destroyed in a fire.
Aerial view of Mission San Juan Bautista
Following its creation in 1797, San Juan's population grew quickly. By 1803, there were 1,036 Native Americans living at the mission. Ranching and farming activity had moved apace, with 1,036 cattle, 4,600 sheep, 22 swine, 540 horses and 8 mules counted that year. At the same time, the harvest of wheat, barley and corn was estimated at 2,018 fanegas, each of about 220 pounds.
Entrance Bell
Father Pedro Estévan Tápis (who had a special talent for music) joined Father Felipe Arroyo de la Cuesta, at Mission San Juan Bautista in 1815 to teach singing to the Indians. He employed a system of notation developed in Spain that uses varied colors or textures for polyphonic music, usually (from bottom to top) solid black, solid red, black outline (sometimes solid yellow) and red outline (or black outline when yellow was used). His choir of Native American boys performed for many visitors, earning the San Juan Bautista Mission the nickname "the Mission of Music." Two of his handwritten choir books are preserved at the San Juan Bautista Museum. When Father Tapis died in 1825 he was buried on the mission grounds. The town of San Juan Bautista, which grew up around the mission, expanded rapidly during the California Gold Rush and continues to be a thriving community today.
The mission is situated adjacent to the San Andreas Fault, and has suffered damage from numerous earthquakes, such as those of 1800 and 1906. However, the mission was never entirely destroyed at once. It was restored initially in 1884, and then again in 1949 with funding from the Hearst Foundation. The three-bell campanario, or "bell wall," located by the church entrance, was fully restored in 2010. An unpaved stretch of the original El Camino Real, just east of the mission, lies on a fault scarp.[9]
Although initially secularized in 1835, the church was reconsecrated by the Roman Catholic Church in 1859, and continues to serve as a parish of the Diocese of Monterey. The mission includes a cemetery, with the remains of over 4,000 Native American converts and Europeans buried there.
The mission and its grounds were featured prominently in the 1958 Alfred Hitchcock film Vertigo. Associate producer Herbert Coleman's daughter Judy Lanini suggested the mission to Hitchcock as a filming location. A steeple, added sometime after the mission's original construction and secularization, had been demolished following a fire, so Hitchcock added a bell tower using scale models, matte paintings, and trick photography at the Paramount studio in Los Angeles. The tower does not resemble the original steeple. The tower's staircase was assembled inside a studio.
St. Jude Episcopal Church – Cupertino, CA
Greetings
Whether you are familiar with church life, or have no experience of any church, whether you are a lifelong Episcopalian or have no belief at all, whoever you are and wherever you are in your journey of faith, there is a place for you at St. Jude's. This website has been designed to give you a sense of the community, liveliness, diversity, and openness you will encounter here.
If you are wondering what it might be like to come to St. Jude's on a Sunday morning, the many pictures, the description of how we worship, and information about children, youth, hospitality, and special events will help you learn about us. You will see that most people dress informally—from work casual to shorts and sandals.
Everyone who comes to worship is greeted personally at the door, and given a worship booklet. Visitors are never singled out publicly by being asked to stand, raise a hand, remain seated, or introduce themselves.
Children are always welcome in worship. There are activity bags at the door for their use—an usher can find one for you. Childcare and Sunday School are available for infants through elementary school, if you prefer to use that option. We want you and your children to be comfortable and relaxed.
The 8:00 service lasts about 50 minutes. The 10:30 service lasts about an hour and 10 minutes. After each service refreshments are served in the parish hall or, weather permitting, on the patio. Community and friendship are what people most often name as the reason they come to St. Jude's. I hope you will come and discover that for yourself.
Please contact me if you have questions.
Wilma+
Winchester Mystery House – San Jose, CA
Winchester Mystery House
U.S. National Register of Historic Places
California Historical Landmark #868[2]
View of the mansion from the southeast
Show map of San Jose, CaliforniaShow map of CaliforniaShow map of the USShow all
Location525 South Winchester Boulevard San Jose, CA95128Coordinates37°19′6.10″N121°57′2.74″WCoordinates: 37°19′6.10″N 121°57′2.74″WBuilt1884-1922 architecture= Queen Anne Style Late VictorianNRHP reference #74000559[1]CHISL #868[2]Significant datesAdded to NRHPAugust 7, 1974Designated CHISL1974
Part of a series on theParanormalMain articles[show]Skepticism[show]Related[show]Parapsychology[show]vte
The Winchester Mystery House is a mansion in San Jose, California, that was once the personal residence of Sarah Winchester, the widow of firearm magnate William Wirt Winchester. Located at 525 South Winchester Blvd. in San Jose, the Queen Anne Style Victorian mansion is renowned for its size, its architectural curiosities, and its lack of any master building plan. It is a designated California historical landmark and is listed on the National Register of Historic Places. It is privately owned and serves as a tourist attraction.
Since its construction in 1884, the property and mansion were claimed by many to be haunted by the ghosts of those killed with Winchester rifles. Under Winchester's day-to-day guidance, its "from-the-ground-up" construction proceeded around the clock, by some accounts, without interruption, until her death on September 5, 1922, at which time work immediately ceased.[3] Sarah Winchester's biographer, however, says that Winchester "routinely dismissed workers for months at a time 'to take such rest as I might'" and notes that "this flies in the face of claims by today's Mystery House proprietors that work at the ranch was ceaseless for thirty-eight years."[4]
Polo Court – San Mateo, CA
Welcome
In the mid-1800s, The Howard, Mills and Easton families purchased vast tracts of windswept, barren land on the mid-Peninsula where they built huge country homes. The Howard estate was 6,500 acres—six times the size of Golden Gate Park. Each of these three families came from the East Coast, but they made their fortunes in Gold Rush California. Along the way, they suffered early deaths from disease and murder and endured fire, earthquakes and shipwrecks. Little wonder, then, that they sought a quiet refuge in the country 15 miles south of San Francisco.
St. Matthew's Episcopal Church in San Mateo, CA is part of the Howard family legacy on the mid-Peninsula.
Image courtesy: © 2006 Steve Whittaker
Business interests linked their lives in San Francisco. In the country, the social institutions formed the glue. In particular, social life centered around St. Matthew's Episcopal Church and later, the Burlingame Country Club. The County Road, also called El Camino Real, was the link between the estates. Filled with horses and buggies, the road was the way to San Francisco as well.
In the 1870s, the families engaged in a joint project to ensure that this County Road was handsomely lined with shady elm and eucalyptus. Well over two hundred of the majestic trees planted by the founding families still tower over El Camino Real today, providing the Burlingame-Hillsborough stretch of the road with a unique and distinctive look. In March 2012, following the nomination submitted by the Burlingame Historical Society, the grove was accepted for listing on the National Register of Historic Places.
El Camino Real linked the great estates of the mid-Peninsula.
Brief introductions to each family and their legacies are found in this exhibit by clicking on the family name. Then specific family members are presented in chronological order. (The Poetts and The Redingtons were related by marriage to the Howards. Because they also played an important role in the development of the mid-Peninsula, they have been given their own section.)
In addition to sharing the stories of the three founding families, this site contains a Virtual Museum. By clicking on the Virtual Museum tab, the reader has the choice of viewing additional photographs, letters, family trees and maps. The Virtual Museum allows the reader to view a portion of the archives of the Burlingame Historical Society, which has been collecting Burlingame and Hillsborough history since 1975.
Village Green – Retirement Community – Gilroy, CA
Federal Way Retirement Community
Village Green Retirement Campus brings the comforting surroundings of home to its residents. Explore 20 beautiful acres in serene Federal Way, Washington. Easy access to the city, endless evergreen trees, and a short commute to shopping, entertainment, and activities keeps you close to everything you desire in a vibrant senior lifestyle. Life at Village Green is a wonderful way to enjoy your retirement. We offer Independent and Assisted Living to meet your needs.
Within our warm, welcoming community you'll find friendship and fun, caring staff and companionship, and the inspiration to explore every day in a new way.
We look forward to sharing the beautiful Village Green community with you and invite you to take a tour of our website and our campus.
Santa Cruz Beach Boardwalk – Santa Cruz, CA
The Santa Cruz Beach Boardwalk is a classic seaside amusement park located along a beautiful sandy beach in a friendly beach town.
The Boardwalk features more than 40 rides and attractions including two National Historic Landmarks: the world-famous 1924 Giant Dipper wooden roller coaster and the beautiful 1911 Looff Carousel, plus many scream-inducing thrill rides, gentle kiddie rides, casual restaurants, gift shops, games, indoor arcades, and miniature golf.
The Boardwalk extends along the coast of the Monterey Bay, from just east of the Santa Cruz Municipal Wharf to the mouth of the San Lorenzo River. At the western edge of the park lies a large building originally known as The Plunge, Now Neptune's Kingdom, A Pirate-themed recreation center which contains a video arcade, and indoor miniature golf course. Next to this is The Casino Fun Center which includes a laser tag arena and next to that (To the Right) is The Cocoanut Grove banquet room and conference center. A Laffing Sal automated character, from San Francisco's Playland, is viewable near the miniature golf course.
East of the Casino, the boardwalk portion of the park stretches along a wide, sandy beach visitors can access easily from the park. The eastern end of the boardwalk is dominated by the Giant Dipper roller coaster, one of the best-known wooden coasters in the world and one of the most visible landmarks in Santa Cruz. The Dipper and the Looff Carousel, which still contains its original 342-pipe organ built in 1894, are both on the US National Register of Historic Places. They were, together, declared to be a National Historic Landmark in 1987[2] and the park is California Historical Landmarknumber 983.[3]
There are old-fashioned carnival games and snack booths throughout the 24-acre (9.7 ha) park. It is located at 400 Beach Street in Santa Cruz, 36°57′51″N 122°01′04″W south of the Ocean Street exit of California State Route 1, which is the southern terminus of California State Route 17. The beach was a destination for railroads and trolleys from 1875; a short passenger service to Henry Cowell Redwoods State Park was restored in 1985. The Santa Cruz, Big Trees and Pacific Railway stops in front of the park.[4]
As of 2011, the park is headed by Charles Canfield, the son of Laurence Canfield, the president of the park from the 1950s until the early 1980s. It has won the Best Seaside Amusement Park Award from Amusement Today every year since 2007 except for 2015 [5]. Although there is no admission and the beach is public, parking is charged a fee when the rides are open. Season or day passes can be purchased or tickets for one dollar; each ride costs between 3 and 7 tickets.[6][7]